Return Stability, Function and Brilliance to Your Smile
Implant supported dentures offer numerous benefits over traditional appliances.
Call Today: 505-293-1687
The Trouble With Traditional Dentures
Wearing traditional dentures leave many patients feeling uncomfortable and insecure with their smiles. Traditional removable dentures rest on top of the gums, often relying on adhesives to remain in place and requiring frequent relines or replacement. If you are experiencing the difficulties of wearing traditional dentures, such as gum irritation, shifting or looseness, and embarrassing noises when eating or speaking, consider making the change to implant supported dentures with our experienced implant dentist in Albuquerque, NM.
Implant Supported Dentures Offer Comfort and Stability
As a premier provider of implant dentistry procedures, Dr. Reuben Jamharian has the advanced skills and expertise to bring your tooth replacement solution to a much higher level.
With a staggering 35 million Americans being fully edentulous (not having any teeth)*, finding a long-term, stable solution to tooth loss is important for many individuals. Implant supported dentures offer just that. To begin, Dr. Jamharian identifies the best locations to place a series of dental implant posts within the jaw and then surgically inserts the posts. After a period of healing, a custom-made, natural looking denture will then attach to these posts through either a ball- or bar-retained method. Implant supported dentures can be either fixed or removable, both of which provide the convenience, security and bite function you need.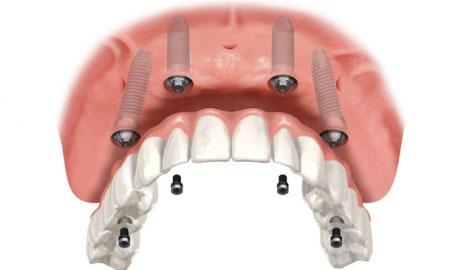 The Convenience of Implant Supported Dentures

Implant supported dentures eliminate the need to have to go without teeth while the implant posts are integrating with surrounding bone. In fact, a temporary denture can be attached to the implant posts the same day of surgery, in most cases, and will function and appear like natural teeth.
Hybrid Restorations for the Best of Both Worlds
Fabricated as either fixed or removable, hybrid restorations offer same-day placement of four or more implant posts and the attachment of a fully functional denture. Hybrid solutions may be recommended for patients who are about to lose all of the teeth within an arch and those who have already suffered total tooth loss. This option incorporates specialized dental implant posts that can be used in those who have experienced bone loss, often eliminating the need for a bone graft.
As a leading implant dentist in Albuquerque, NM, Dr. Reuben Jamharian provides the solutions you need to get back to enjoying a healthy, comfortable, beautiful smile. Learn more about your options for implant supported dentures by contacting our office and reserving your consultation today.